On its surface, GiveToGet (or GTG) is a talent acquisition app, connecting job recruiters to potential candidates. But a deeper look reveals their altruistic intentions—and the complexity of designing their app.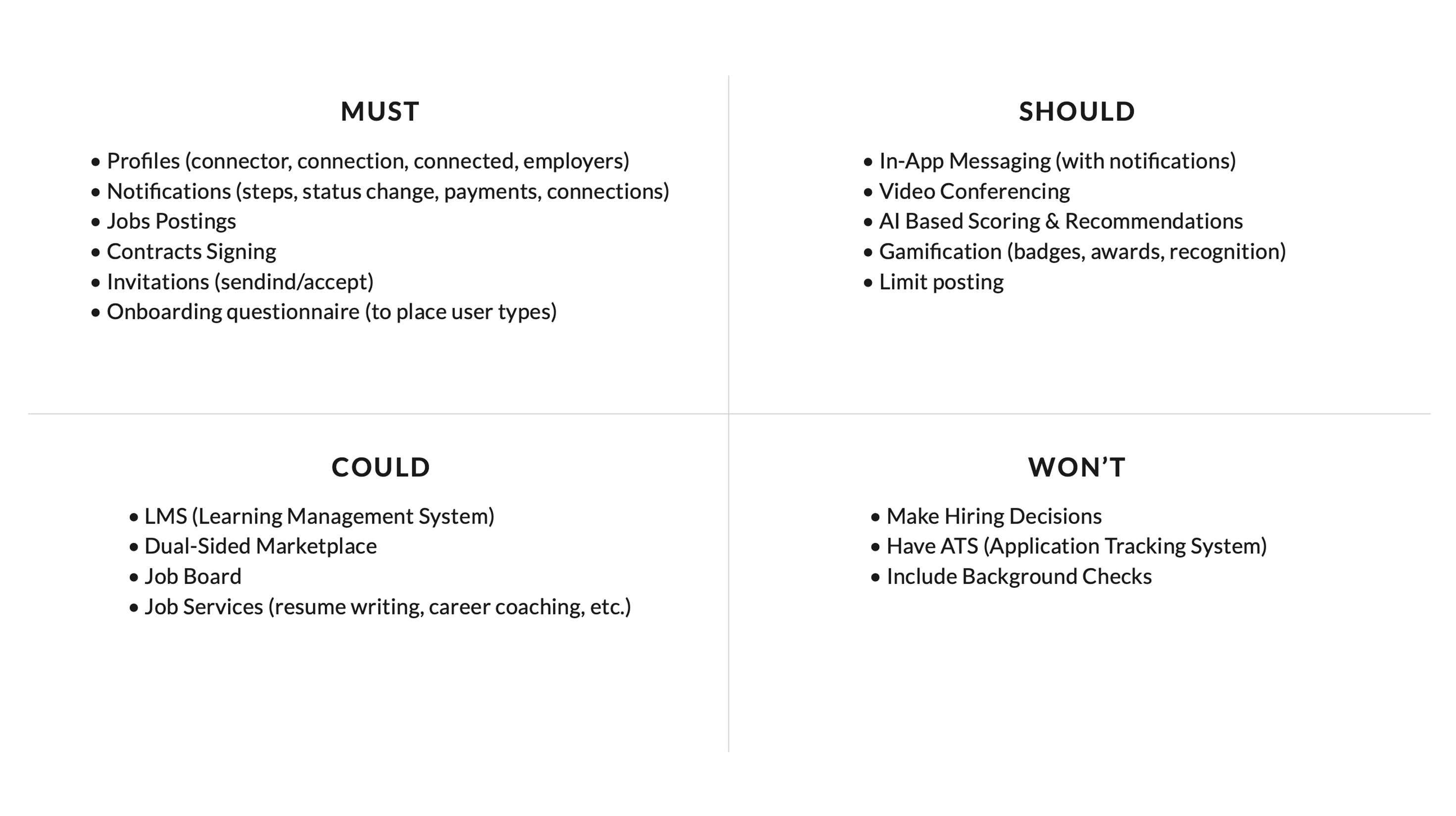 Typical recruiters make up to 25% of the base salary of placed candidates. GTG makes just 12%, which gets split into various fees and a donation of 1% to the connector's charity of choice. A mobile app would need to account for those fees as well as work for networkers, recruiters, job hunters alike.
But for all of it to work, the GTG crew needed to design a clickable prototype. First on that agenda: prioritize features. Our UX/UI designer Matt Overwine guided the GTG crew through a prioritization workshop that determined which features were necessary for a minimum viable product. In that process, an important consideration rose to the top.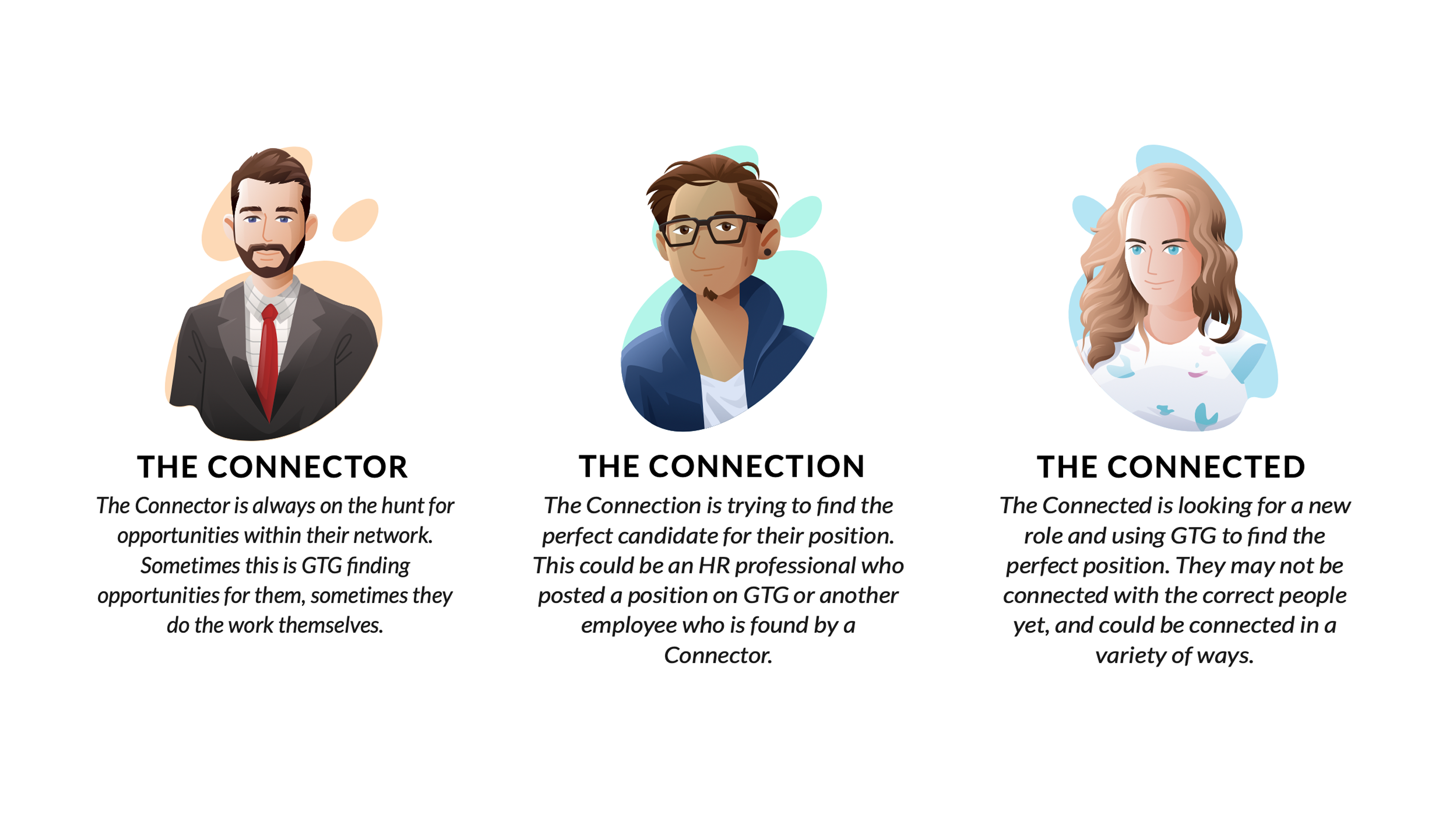 Three types of people would use the app, so three types of user experiences—personas—were needed (and then developed): Connector, Connection, and Connected. Each had their own user flow through the app, and would need their own features. For example, a Connector would need to be able to select their charity of choice, while a Connection would need to be able to post available opportunities.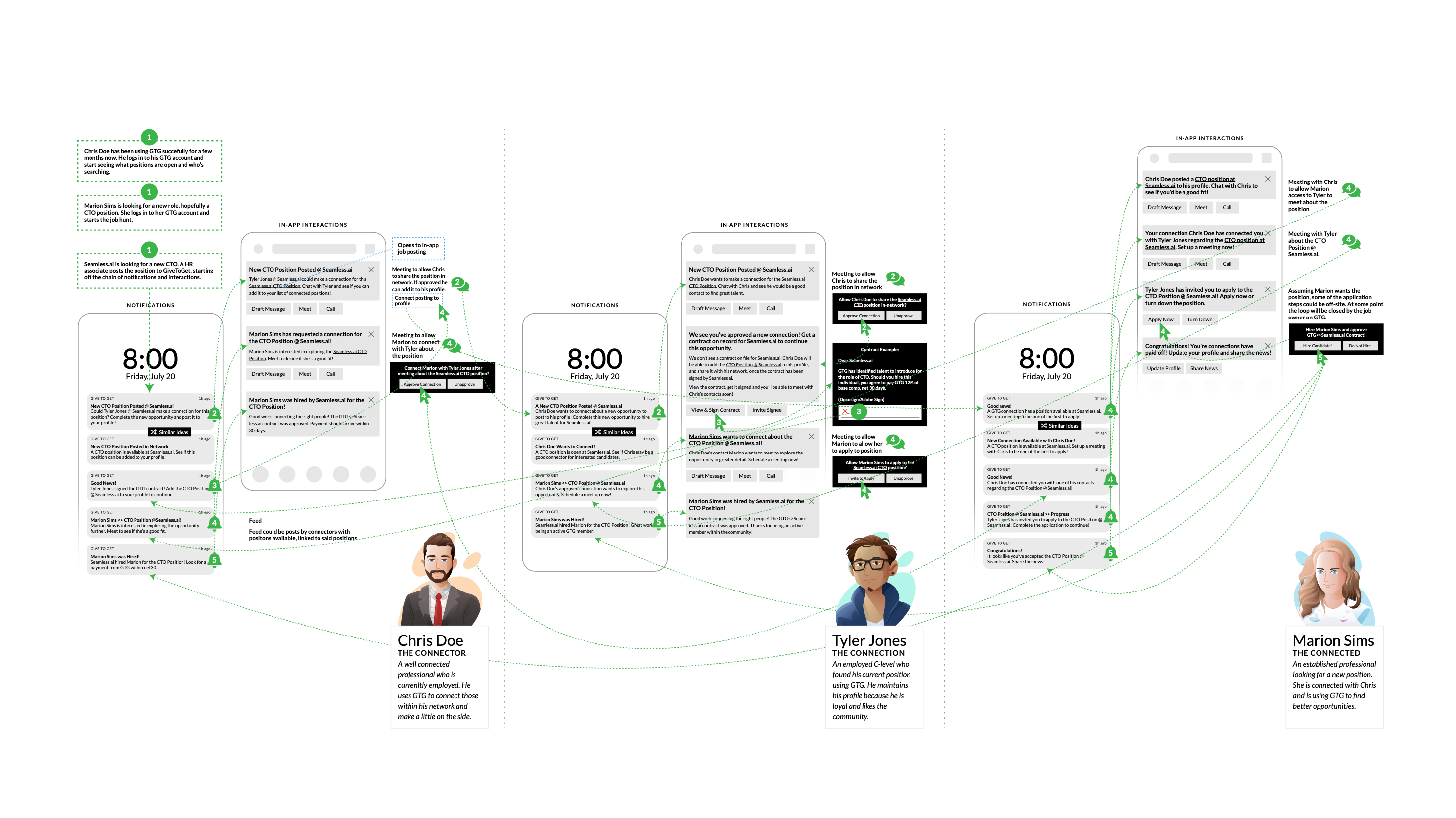 To bring the feature prioritization and personas together, Matt developed the app's user flow diagram—that is, showing the way those personas would actually use the app and interact with each other. It explored interactions through push notifications and how they would drive users to take action.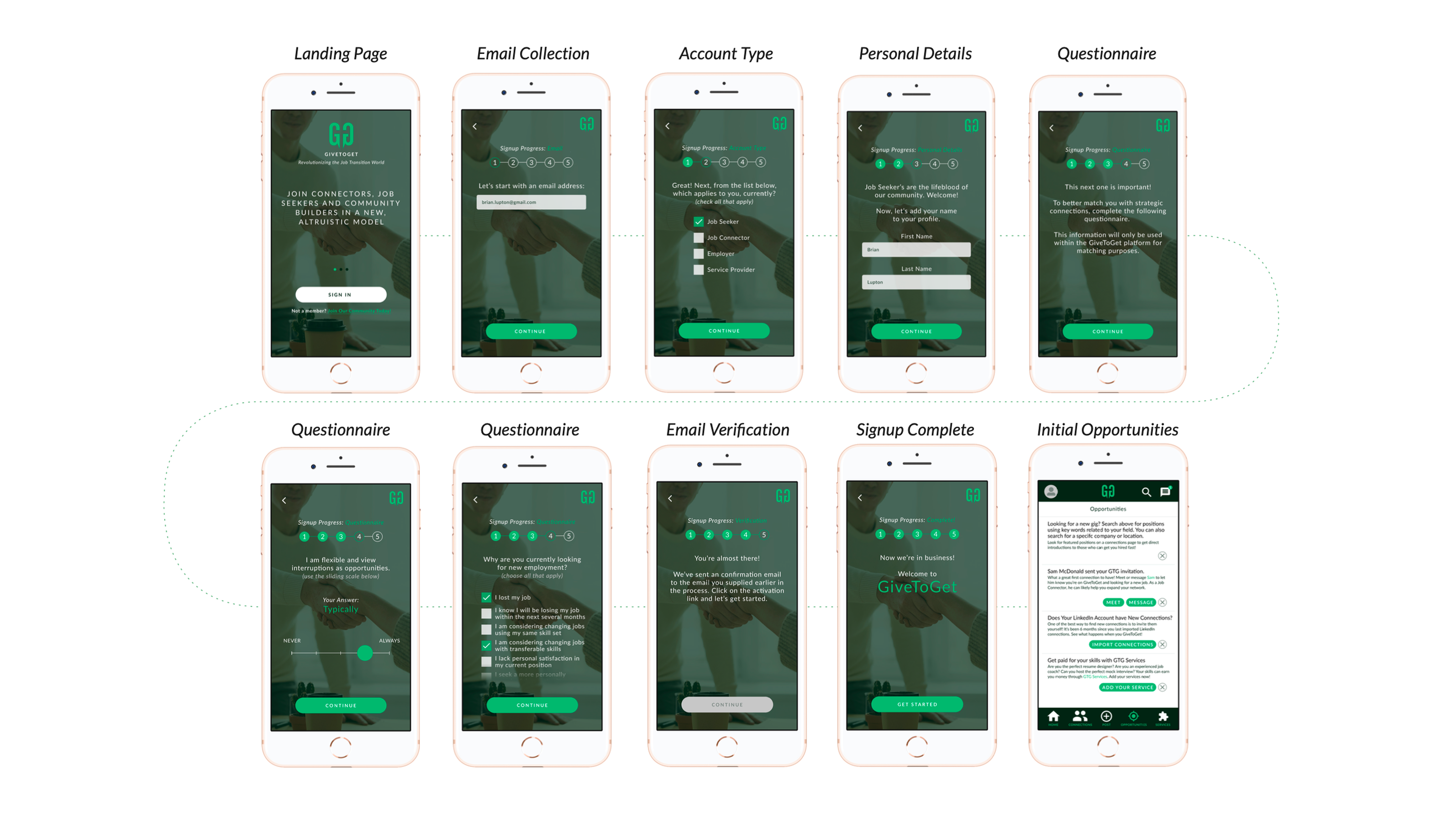 From there, Matt built out a clickable prototype to demonstrate to key stakeholders how exactly the whole project would come together. This is where the app began to look like an app: signup pages, specifying the user's account type (essentially, Connector, Connection or Connected), a questionnaire, email verification, and more.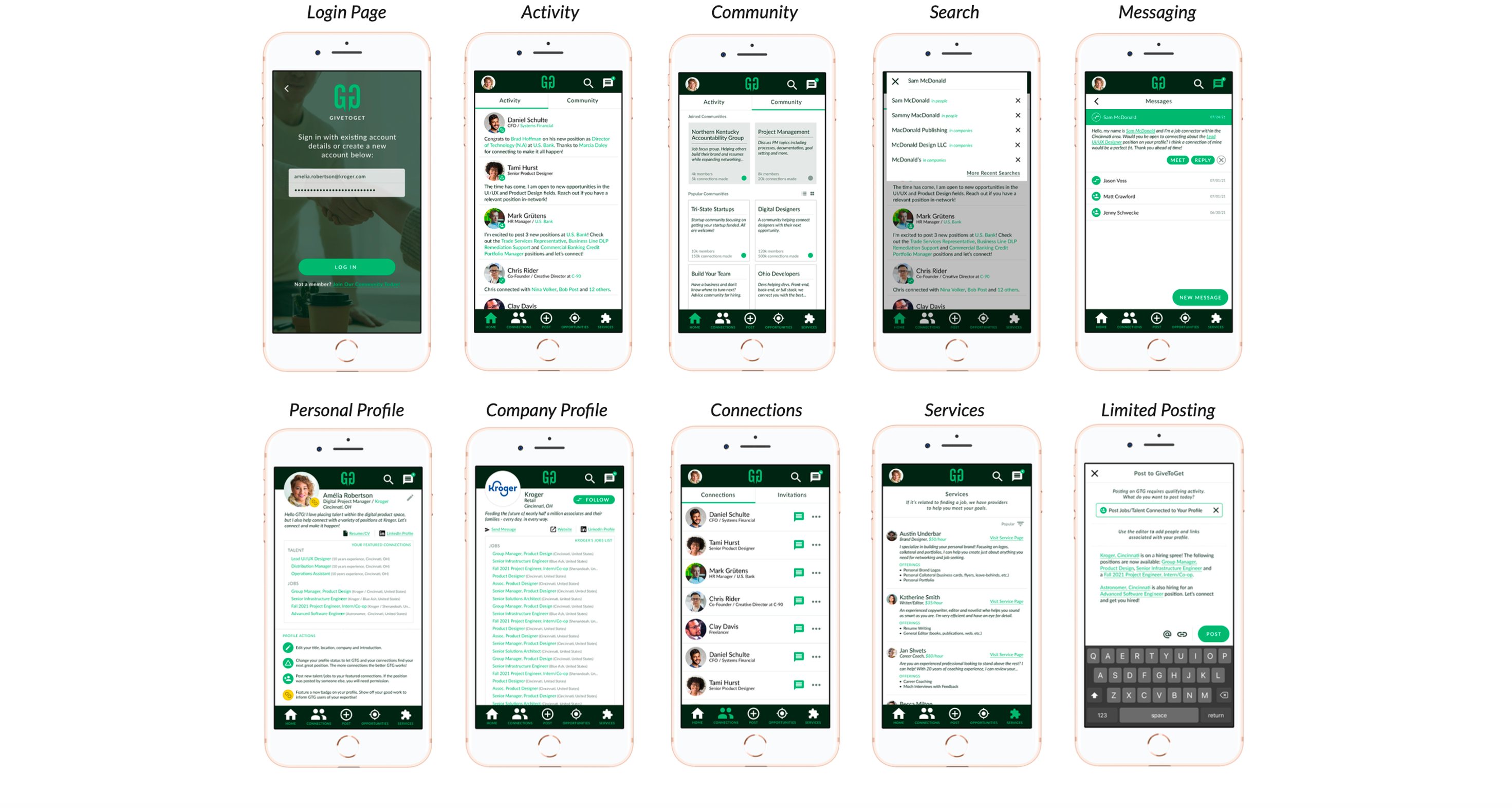 The prototype also included a recent activity page to see what other contacts were up to, a search feature, messaging, profile pages (both for individuals and companies/recruiters), and connections. From there, with stakeholder approval, the intuitive, community-based, network-led prototype was shared with the development team. 
Currently, GTG is with The Revenue Accelerator, an investment group that helps thoughtful founders go to market. They're in the process of growing their revenue and pushing user growth while expanding their reach.